Overview
Achilles tendinitis is an uncomfortable condition where a person?s large tendon in the back of their ankle becomes irritated and inflamed. It is a very common type of injury, most often seen in recreational athletes. This makes sense because recreational athletes still play hard at their sports, but don?t have the full knowledge or training that comes with being a professional to prevent injuries. Achilles tendon pain is not something to be taken lightly, so if you are aware of your own, you should definitely seek some medical advice.
Causes
There are several factors that can contribute to achilles tendonitis. First, you should know that the biggest contributor to chronic achilles tendonitis is ignoring pain in your achilles tendon and running through the pain of early achilles tendonitis. If your achilles tendon is getting sore it is time to pay attention to it, immediately. Sudden increases in training can contribute to achilles tendonitis. Excessive hill running or a sudden addition of hills and speed work can also contribute to this problem. Two sole construction flaws can also aggravate achilles tendonitis. The first is a sole that is too stiff, especially at the ball of the foot. (In case you are having difficulty locating the "ball" of your foot, I mean the part where the toes join the foot and at which the foot bends) If this area is stiff than the "lever arm" of the foot is longer and the achilles tendon will be under increased tension and the calf muscles must work harder to lift the heel off the ground. The second contributing shoe design factor which may lead to continuing achilles tendon problem is excessive heel cushioning. Air filled heels, while supposedly are now more resistant to deformation and leaks are not good for a sore achilles tendon. The reason for this is quite simple. If you are wearing a shoe that is designed to give great heel shock absorption what frequently happens is that after heel contact, the heel continues to sink lower while the shoe is absorbing the shock. This further stretches the achilles tendon, at a time when the leg and body are moving forward over the foot. Change your shoes to one without this "feature". Of course another major factor is excessive tightness of the posterior leg muscles, the calf muscles and the hamstrings may contribute to prolonged achilles tendonitis. Gentle calf stretching should be performed preventatively. During a bout of acute achilles tendonitis, however, overly exuberant stretching should not be performed.
Symptoms
There will be a gradual onset of achilles tendon pain over a period of weeks, or even months. The pain will come on during exercise and is constant throughout the training session. Pain will be felt in the achilles tendon when walking especially up hill or up stairs. This is because the achilles is having to stretch further than normal. There is likely to be stiffness in the Achilles tendon especially in the morning or after a long period of rest. This is thought to be due to adhesions between the tendon sheath and the tendon itself. Nodules or lumps may be found in the achilles tendon, particularly 2-4cm above the heel and the skin will appear red. Pain and tenderness will be felt when pressing in on the achilles tendon which is likely to appear thickened or swollen. A creaking sensation may be felt when press the fingers into the sides of the tendon and moving the ankle.This is known as crepitus.
Diagnosis
X-rays are usually normal in patients with Achilles tendonitis, but are performed to evaluate for other possible conditions. Occasionally, an MRI is needed to evaluate a patient for tears within the tendon. If there is a thought of surgical treatment an MRI may be helpful for preoperative evaluation and planning.
Nonsurgical Treatment
Treatment can range from cold compress and heel pads for minor cases, to physical rehabilitation, anti-inflammatory medicine, ultrasound therapy, and manual therapy. If you are a Michigan resident that suspects they have Achilles Tendinitis, please contact Dr. Young immediately; Achilles Tendinitis, if left untreated, can eventually result in an Achilles Tendon Rupture, which is a serious condition that is a partial or complete tear in the tendon. It can severely hinder walking and can be extremely painful and slow to recover.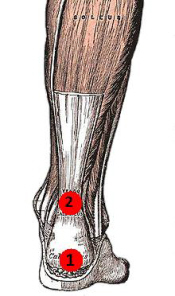 Surgical Treatment
When the tendon tears or ruptures the variety of surgical techniques are available to repair the damage and restore the tendons function. Recent research that is done at Emory University Department of orthopedics have perfected the repair of the Achilles tendon. The procedure is generally involves making an incision in the back of your leg and stitching the torn tendon together using a technique developed and tested by Dr. Labib. Depending on the condition of the torn tissue the repair may be reinforced with other tendons.
Prevention
Appropriately warm up and stretch before practice or competition. Allow time for adequate rest and recovery between practices and competition. Maintain appropriate conditioning, Ankle and leg flexibility, Muscle strength and endurance, Cardiovascular fitness. Use proper technique. To help prevent recurrence, taping, protective strapping, or an adhesive bandage may be recommended for several weeks after healing is complete.